About tvsports.in
What is TVSports.in?
TVSports.in is the TV and streaming schedule service for all passionate sports fans that follows a team or a league.
Why browse TVSports.in?

With more matches than you can count being shown on TV and stream every week we decided to solve all sports fans daily question of "What matches are on TV today?" or "Where can I watch my team play?".
We deliver the most up to date, comprehensive and accurate TV guide for Live Sports in India. We cover sports such as cricket, football, tennis, golf, badminton, basketball, table tennis, UFC and motorsports.
Whether you are a passionate Indian Premier League fan or ISL fan, TVSports.in will always be your best friend with all the scheduled matches.
We love simple and clean design and our goal is for the service to be quick and easy to use. Do you have suggestions on improvements? Feel free to drop us an email on: contact(a)livesportsontv.com or contact us on social media:
-TVSports.in on TV on Facebook
-TVSports.in on TV on Twitter

Chief content writer Ramesh Singh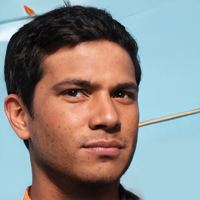 Ramesh Singh is a passionate sports writer from Shrirampur, India. He has a deep love for cricket and has been covering the game for many years. Ramesh is a regular contributor to TVsports.in, where he publishes in-depth analysis and commentary on the latest developments in the world of cricket.
Ramesh grew up playing cricket in the streets of Shrirampur and quickly developed a keen understanding of the game. He studied journalism at university and began his career as a sports writer for a local newspaper. His passion for cricket soon caught the attention of TVsports.in, where he was offered a regular column to share his insights and opinions with a wider audience.
In his articles, Ramesh covers all aspects of the game, from tactical stuff and player profiles, to in-depth reports and observations on top players and teams. He has a unique perspective on the game and is known for his engaging and thought-provoking writing style.
When he is not writing about cricket, Ramesh enjoys watching live matches and spending time with his family. He is an avid fan of the Indian national cricket team and hopes to see them lift the ICC Men' Cricket World Cup. Ramesh is a boyhood fan of Zaheer Khan the famous cricketer that also grew up in Shriampur.
If you like to reach out to Ramesh, feel free to do so on: TVSports.in on Twitter
TVsport.in is owned by private company Ronin Sport.